It's time for ISE SLACK MARCH MADNESS 2022! This year, all of the Pokemon on the bracket were chosen by our community members, who were asked to nominate their personal favorites. This time, hearts will break!

The competitions will be decided by popular vote, with votes happening throughout March on Slack. It's a popularity contest, not a "who would win in a fight" contest, but vote however you want to. Before the voting starts, you can fill out a prediction bracket and try to predict how the voting will go, and which favorite Pokémon will be awarded the crown by ISE Slack.

To vote, just keep checking #general in the ISE slack. You don't have to make a prediction to participate in the voting, but it's fun to try and predict how slack will vote, so give it a try!

We will stop accepting prediction brackets when voting ends for the first round, so please get your brackets in ASAP.

....................................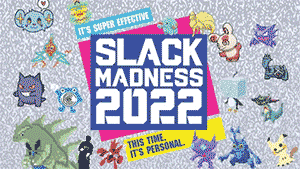 .........................


3 WAYS TO MAKE YOUR PREDICTIONS!
︎


︎︎︎ USE AL'S WEB APP (RECOMMENDED)




Beloved ISE Slacker & podcast co-host Al has made a web page that will let you easily make your predictions, send them to me for scorekeeping, and download as an image. ︎︎ Make sure to fill out the WHOLE THING before submitting. ︎︎ Also, please use a name that people will recognize from Slack. Check it out here:
FILL OUT THE BRACKET ON AL'S SITE

(The image you can download from Al's app is in night mode, so if you want to print it out, you might want to invert the colors. You can use a free web converter like this to make a more printable version.)

︎


︎︎︎ FILL IN THE EDITABLE PDF


This is less cool than Al's app, but a good backup. Download the PDF, fill in the bracket with your predictions, and then send a copy to Nick (@burgess) so he can keep score. Make sure it saves correctly with your choices filled in!
Editable PDF to download

︎


︎︎︎ OR PRINT IT OUT AND FILL IT OUT


This is the old fashioned way. Just download this PDF, print it, and fill it out. Send Nick (@burgess) a scan or image of it on Slack:
Blank Bracket PDF to Print

Thanks to Kevin for the basculegion sprite!

...............................................................


THANKS!

︎

If you're curious about the seeding, it's based on multiple popularity polls and the number of votes each pocket monster received in our nomination process. Here are the final seeds, from first place to last:

1 Gengar
2 Arcanine
3 Gardevoir
4 Mimikyu
5 Lucario
6 Tyranitar
7 Dedenne
8 Ninetales
9 Ampharos
10 Jigglypuff
11 Sableye
12 Garchomp
13 Scizor
14 Metagross
15 Vulpix
16 Heracross
17 Alolan Vulpix
18 Slowpoke
19 Haunter
20 Toxtricity
21 Milotic
22 Ludicolo
23 Corviknight
24 Gallade
25 Wooloo
26 Hatterene
27 Hawlucha
28 Rotom
29 Shinx
30 Gliscor
31 Oddish
32 Dragonair
33 Centiskorch
34 Eiscue
35 Spinda
36 Appletun
37 Polteageist
38 Grapploct
39 Poliwhirl
40 Basculegion
41 Togepi
42 Phanpy
43 Donphan
44 Primeape
45 Cramorant
46 Boltund
47 Dragapult
48 Mareep
49 Sneasel
50 Darmanitan
51 Chatot
52 Galarian Zigzagoon
53 Pangoro
54 Golurk
55 Trapinch
56 Bronzong
57 Roselia
58 Bagon
59 Vivillon
60 Tyrunt
61 Cranidos
62 Heatmor
63 Dusknoir
64 Paras